European data protection rules are set to change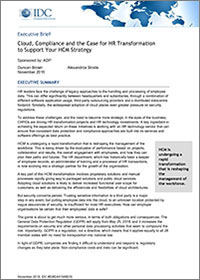 Are you ready for the turbulence ahead?
The European General Data Protection Regulation (GDPR) is due to hit all 28 EU member states on 25 May 2018, representing the biggest change to data protection law in 30 years. It includes high penalties for non-compliance – up to 4% of a company's worldwide revenue (or €20m; whichever is higher) – and extends not just to data controllers, but data processors too.
Wherever in the world you're based, if you do business in Europe GDPR will mean a whole new era of data governance and enhanced requirements on security and personal data processing activities, all of which could compound the risks of non-compliance.
Whether you're in HR, IT or Finance, no leader wants to endure an emergency landing. Enter your name and email address in the box on the right to download IDC's exclusive 'Cloud, Compliance and the Case for HR Transformation to Support Your HCM Strategy' executive brief now and learn:
why so many leaders like you are concerned about how data privacy and GDPR will affect their day-to-day business processes,
how you can start to plan for GDPR and navigate the turbulence ahead,
and how HCM cloud services could provide the GDPR silver lining you're looking for.
Access the IDC report
* required fields
Infographic
Brace yourself -
European Data
Protection law is changing!


Disclaimer: Please note to the extent possible ADP's technology solutions will assist clients in complying with legislation by supporting their strategy; however, on their own, they may not meet all of clients' legally-required obligations as an employer. While this information has been prepared in good faith, no representation or warranty, express or implied, is or will be made and no responsibility or liability is or will be accepted by ADP or by any of its respective officers or employees in relation to the accuracy or completeness of this information. In particular, no representation or warranty is given as to the achievement or reasonableness of any future projections, management estimates or prospects contained in this information. Click here to see our privacy policy.
en